Posts Tagged with "Shannen Doherty and Jennie Garth"
on December 5th, 2008
0 Comment
It is raining in Los Angeles today February 5, 2009 and we caught the girls of 90210 filming a scene on Rodeo Drive in the rain. Lucky for them it is still warm in Los Angeles.
Rain Rain Go Away Come on Back Another day…hold on! If you love your Uggs and they keep you warm – or if you need a new pair – now is the time to get them – just click Click here or the photos below which offer no tax, free shipping, free return. What could be better than that? OR click this small photo here and go direct to the short Ugg in sand now or the new Knightsbridge now.


Hunter Wellington boots are the coolest rain boots and snow boots you can buy. The royals wear them to go hunting, Gwyneth wears them, Madonna wears them, and Angelina Jolie rocked a red pair in Mr & Mrs Smith.
Now you can get them from by clicking the photos below for under $100 and no tax and free shipping OR click the tiny photo to go direct to the Hunter Wellington boots now.

Click the red above to Channel your INNER Angelina Jolie now from Mr. and Mrs. Smith or look at this beautiful dove gray which is the color of the season. Choose any color you cannot go wrong with Hunters. Click the photos to shop now.
Wear these wellies in the rain or in the snow and be warm and dry at the same time. Get them now and wear them with your Mike & Chris Walker Trench and you are all set until the warm weather comes back in May.
Check out more post about
Rain Snow boots hunter wellingtons as seen on Angelina Jolie
written by ShoppingandInfo.com here at our
Celebrities
,
Shoes
Page
on September 3rd, 2008
1 Comment
I am so happy Brenda Walsh is back on 90210 because 90210 was never the same when she left the original show.
Now that the next generation of 90210 is on the air, Shannon Doherty as Brenda will give the show the edge and interest it needs to gain popularity with the new generation of viewers plus bring the first generation of viewers back to West Beverly High.
Shenae Grimes is one the new cast members who is sure to gain a fan following. She plays the main character whose family moves from Kansas because her father becomes the new principal of West Beverly High.
We loved the dress Shannon wore to the premiere party in Malibu and thought Shenae Grimes' dress was very cute on her and found some great dresses that are very similar that we thought you might want for your own 90210 premiere red carpet party. Click the photos of the dresses below to get them now.

Check out more post about
Beverly Hills 90210 is back with a new cast on the CW and we love Shenae Grimes and Shannen Doherty
written by ShoppingandInfo.com here at our
Celebrities
,
Fashion
Page
on August 27th, 2008
0 Comment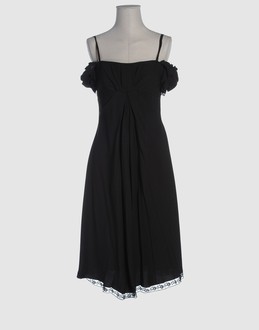 The report on the new set of 90210 is that Jennie Garth and Shannen Doherty are all grown up and working well together. I am glad they are getting along. I love Brenda! I also loved her in her black plunging dress for the season premiere party with the CW. I found a few great black dresses on sale that are Prada and Victor & Rolf. Click the photos and go to them now. Enjoy.
Check out more post about
Shannen Doherty and Jennnie Garth are back on the new 90210 wearing a plunging black dress and Prada black dress and Victor & Rolf black dresses sale
written by ShoppingandInfo.com here at our
Celebrities
,
Fashion
Page