Posts Tagged with "rings"
on September 13th, 2016
0 Comment
Whether you are gearing up your wardrobe for fall or winter, the Suzanne Kalan collection is delicate and ideal for the sophisticated fashionista. My favorite choices for this season are a mixture of flashy and timeless. You simply can't go wrong with these five jewelry choices.
With 1.11-carats of diamonds set in an 18-karat gold piece, the clustering design features geometric shapes that seem to dance around the wrist. This delicate band is beautiful by itself or with several other cuffs stacked on a wrist. This design is the signature "Fireworks" motif and is handcrafted in a flexible open band style. I think this little flash of glitz is exactly right for fall and winter wardrobes in 2016.
For an even more delicate look, the Organized Chaos version of the Firework setting contains .70-carats of diamonds set in a streamlined layout of 18-karat rose gold. This delicate band could also be paired with other cuffs in the series for an interesting set of textures on the wrist. The handcrafted and flexible cuff is so sweet and simple, but very chic.
Simple and elegant, I love this vertical stack diamond ring. There are 1.60-carats of baguette-cut diamonds that line up somewhat haphazardly along the 18-karat white gold band. This beautiful ring adds a bit of texture to your look without being too flashy or obnoxious.
This dainty drop earring offers just a bit of glittery texture to your ears with .75-carats of stunning baguette-cut earrings. These handcrafted designs mean Suzanne Kalan is personally picking out individual stones to be set into unique pieces. I think the unique style really shines through in this earring set, with a cluster pattern that isn't like anything I've seen before.
Paired perfectly with the vertical stack ring, these delicate earrings create a vertical line on your lobe that is different and will catch the eyes of many. A total of .18-carats are used to form this stylish earring set. I'm loving this romantic look for winter and spring!
Make sure you take the opportunity to check out these glamorous items for yourself!
on August 29th, 2014
0 Comment
Check out more post about
EXCESSIVE Bracelets and Rings is the Name of the Game
written by ShoppingandInfo.com here at our
Jewelry
Page
on February 23rd, 2014
0 Comment
Irina Shayk in Blue Dress at Roberto Cavalli Boutique Opening. (February 22), Irina Shayk attended the Roberto Cavalli Boutique Opening in Milan, wearing a ring by Melinda Maria.
Last night in a plunging blue v neck dress by Roberto Cavalli, Irina Shayk – Sports Illustrated swimsuit supermodel looked hotter than ever. Her beauty is all natural – all 5 feet 10 inches of her and she was definitely the center of attention.
Spotted on her was a Melinda Maria stack ring. The ring is made up of many single rings soddered together. You can get this great looking stack ring by Melinda Maria for $115 here now.
Check out more post about
Irina Shayk in Blue Dress at Roberto Cavalli Boutique Opening
written by ShoppingandInfo.com here at our
Celebrities
,
Fashion
,
Jewelry
Page
on April 29th, 2012
0 Comment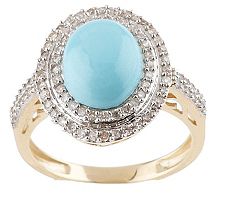 Persian turquoise is the rarest turquoise in the world. They do not mine it anymore and if you can find it – it is usually very limited. Recently I found a gorgeous Persian Turquoise Cabchon gold ring that I just had to share with all of you. It is 14KT gold, set in a oval diamond setting and is the most beautiful robin's egg blue you can ever imagine. Egyptian Pharoahs use to send their people out to mine the rare stone and it was only allowed to be worn by the royal families.
This ring would be a great addition to anyone's summer wardrobe whether you wear it with your white linen dresses or shirts or you wear it out in the evening. This pretty stone should be worn and not left in your jewelry box. I wish the earrings where still available, but alas they were sold out.

Premier Persian Turquoise and 3/10 cttw DiamondRing, 14K
 is available for $522. It is a must have for the summer.
on June 3rd, 2011
0 Comment
When you find someone who makes you feel special, you want to share that feeling. One of the ways you can do this is with a promise ring. There are many different promise rings available. However, one types of ring with an interesting history is the Claddagh ring. It is especially appropriate if the woman to wear the ring has Irish or Celtic heritage, even though many without Irish heritage enjoy the look and the symbolism of the Claddagh ring.
Origins of the Claddagh Ring
Because of the nature of the Claddagh ring, and what we know about it, knowing the exact origins of the ring are difficult. It seems as though romanticism has crept into the narrative. However, many believe that the first Claddagh rings were made in the 17th century, during the time Queen Mary II, who reigned simultaneously with her cousin (and husband) William.
These rings were thought to be created in the fishing village of the same name, Claddagh, located near Galway in Ireland. Some lorists maintain that the rings were passed from mother to first married daughter, while others contend that most Claddagh rings were originally worn by men. In any case, there is symbolism in the rings that predates them, going all the way back to Roman times:
You can see why, with such symbolism, a Claddagh ring makes a good promise ring. You can promise your love, friendship and loyalty to someone you feel strongly about. Finger rings with special symbolism have been part of European tradition since the time of the Roman Empire, and it is no surprise that the people of Claddagh in Ireland eventually produced their own.
Wearing the Claddagh Ring
A promise ring in Claddagh style can be made in a variety of ways. In the simplest designs, the entire ring is made from gold or silver. In some cases, though, the heart (which is held between two hands and topped by a crown) is replaced by a gemstone. Many people like to use an emerald, representing the green of the "Emerald Isle." However, it is also fine to use the favorite stone of the intended recipient, or use a birthstone.
The wearer of the Claddagh ring can indicate his or her relationship status by the way the ring is worn. Here are the most common ways a Claddagh ring is worn, although there are other traditions involving the finger the ring is worn upon:
1. If you are married: Wear the ring on your left ring finger. The small end of the heart should be turned toward your body, so that the heart appears right side up to you.
2. If you are engaged: The Claddagh ring should be worn on your left ring finger. However, the heart should be pointing away from you, so that it appears upside down when you look at your hand.
3. If you are promised or dating someone: If you aren't engaged, but if you are in a serious relationship, you wear the ring on your right hand, facing toward you so that it looks right side up. If wearing as a promise ring, and you aren't engaged, this is a good way to wear the ring.
4. If you are single: Even singles can wear the Claddagh ring. Simply wear it on your right hand so that the heart faces away from you, appearing upside down.
As you can see, this can be a love tradition, especially as you progress in the relationship; the promise ring can be moved to show your progressing relationship.
Check out more post about
Promise Ring Idea: Claddagh Ring
written by ShoppingandInfo.com here at our
Jewelry
Page