Posts Tagged with "Puffer Jackets"
on January 27th, 2013
0 Comment
Are you cold yet? If you have been telling yourself all winter long that you do not need a puffer jacket or that it is not that cold out, now is the time to decide that YES it is cold and it is time to buy a winter jacket. Among my favorite puffer jackets are the ones made by Moncler. I love Moncler not because they are a favorite brand of celebrities like Reese Witherspoon wore one on the set of This Means War with a fur hood, Victoria Beckham wore a Moncler jacket in yellow, Elle Macpherson, and others but because they make high quality beautifully styled coats and jackets for the whole family. IF there is a company that knows how to make a warm winter coat Moncler is definitely that company.
Seen here Elle Macpherson is wearing her puffer jacket by Moncler with a hoodie and workout clothing. Kelly Ripa was seen recently going to Soul Cycle in New York City wearing her Moncler puffer jacket to brave the New York City winds. I get it, I am from the East Coast it gets cold. This winter in Los Angeles, it has been pretty cold as well. We have had some strange in between 90 degree days, but looks like we should be expecting more rain and snow in the mountains until at least March of this year.
If you are planning on going to Big Bear, Mammoth, Mountain High, or Tahoe to go skiing this ski season definitely invest in a warm down puffer coat or jacket from Moncler. You will look great apres ski and you will be super warm as well. Some of my favorites are the ones that they have with the fur hoods. Not just for looks, the fur hoods keep you very warm as well.
Some fun versions of Moncler puffer jackets this season include a Chanel looking puffer jacket in black that I think is so chic. Check it out here. It is $300 off on sale until January 29th only!
One of the prettiest Moncler puffer coats I have seen this season is the puffer with a fur hood in beige. By far my favorite and definitely one of the ones that will keep more of your body warm. Check it out here.
Check out more post about
Elle Macpherson's Moncler Puffer Jacket is a MUST HAVE
written by ShoppingandInfo.com here at our
Blog
,
Celebrities
,
Fashion
Page
on January 25th, 2013
0 Comment
I was away during New Year's in Lake Tahoe and went snowshoeing, skiing and hung out by the Ritz Carlton Lake Tahoe sipping hot toddies by the fire in the living room area while waiting for my daughter to finish ski school and husband to finish snowboarding. Our dog Lexi even went on the trip with us.
We packed our warmest weather puffer jackets, ski jackets, and boots to go on this trip and even while wearing ski pants everywhere daily, it was chilly. It was a cold 1 degree Fahrenheit one day.
The weather did not stop us from enjoying the sunny Lake Tahoe snowy weather. The powder could not have been better for skiing and everyone was happy to run back after ski lessons into the Ritz Carlton Ski lodge to enjoy hot toddies, coffees, and hot chocolate.
Some of the things we packed included Valentino bow rubber boots, Ugg bailey bow boots for apres ski for myself and my daughter, dog coat and booties, Sorel snow boots, and Moncler puffer jackets and kids vests. All those items definitely helped. If we did not have our warm toasty boots and jackets, we would not have been as happy in the snow. Are you ready for Ski Week in February?
on January 12th, 2013
0 Comment
A great jacket for apres ski is the bigger fashion trend than ever peplum puffer black jacket.
Burberry, Alice + Olivia, St. John, and many other designers have created their versions of the peplum puffer jacket and they have all been gorgeous and must haves. I have picked my favs so you can check out which ones suit your budget and style.
One of my favorites for the price and the look is the Peplum Black Puffer for $32 from Forever 21. It is very cool because it is matte, cinches in the waist in a peplum style, and does not have any additional details that take away from the peplum jacket. It is just a pretty style that you can wear from winter into spring over almost everything. It does run small so size up.
My other 2 favorite peplum puffer jackets include the Burberry puffer jacket that is now on sale for $649 because of its peacoat inspiration. It is very British inspired in style as only Burberry can do and looks chic and will keep you warm.
Of course if you have a little girl, you should get a matching Burberry peplum puffer for her for apres ski. I love the pink bow detail around the waist. Too cute for $295.
on October 8th, 2008
0 Comment
Blake Lively was seen wearing a long black puffer jacket while filming scenes for Gossip Girl today. (Credit: Pacific Coast News)
I am very excited even though it is only starting to get cold because cooler temps means lots of fashionable outerwear.
Here are some of my favorites for the season.
Click the photos below to get a closer look and to buy the jackets now. I am getting 2 of these now.

Click this photo if you want it now.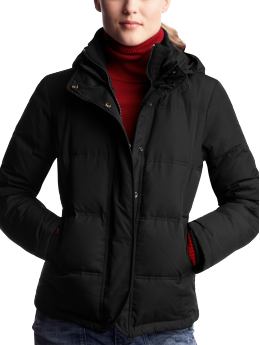 Click this photo to buy this great magenta puffer now.


Click this jacket to buy it now. I love the hood.


Click the jacket to buy it now.


If you want this jacket below click the photo

And just something adorable if you know someone young in your life – little girl or toddler. I love this ruffle leather jacket.
Also, I found some amazing puffer quilted jackets at Gap and Old Navy for under $100 – click here to go now.
Enter OCTOBER150 at checkout to get FREE SHIPPING from Gap and Old Navy if you spend over $150.
Check out more post about
Gossip Girl Blake Lively seen wearing black puffer jacket on the show today: buy your puffer jacket for 2008 shopping info
written by ShoppingandInfo.com here at our
Celebrities
,
Fashion
Page
on September 23rd, 2008
1 Comment

It is that time of the year again. Halloween decorations are going up, the nights are getting darker, and we are thinking about baking apple pies, and when to go skiing. This is absolutely my favorite time of year.
I love shopping for puffer jackets, cashmere jackets, soft scarves, and boots. Shopbop has no tricks just treats for you.
Save 70% on Top Brands at shopbop.com!

Mike & Chris, Theory, Add, Alexander Wang, Catherine Malandrino, and all your favorite jackets, coats, and sweaters.
As of today- Shopbop has a 20% off coupon code for you here for Sexy Tops for a night out on the town.
Shopbop now click here to shop now

Save 70% on Top Brands at shopbop.com!

Click here to shop with your special Shopbop coupon code now.

Add to your sexy top purchase…buy a great puffer jacket or sweater.
Now is the time to get that Theory Magenta Puffer jacket, the Black ADD Down Jacket, the Mike & Chris black leather motorcycle jacket, the Catherine Malandrino Cashmere nude colored shawl sweater.
Save 70% on Top Brands at shopbop.com!

Check out more post about
Shopbop 20% off Coupon Code for sexy tops and buy Mike & Chris leather Jackets and Cashmere Sweaters on now
written by ShoppingandInfo.com here at our
Giveaways
Page
on September 19th, 2008
0 Comment

A Few Goody GumDrops teams up with Misikko and tells you how to get great salon looking hair!
Stiletto Jungle shows why clip-on earrings are a must-have.
Allie is Wired fashion face off: Jessica Simpson against Kelly Osbourne.
Bag Bliss finds the top 5 handbags worn by celebrities.
Bag Snob talks with Nina Garcia on Snob TV!
Beauty Snob sparkles using Benefit Powderflage!
Cozying up for fall, Coquette goes crazy for plaid coats.
Fashion Pulse can't get enough of the bustier dress!
Fashion, evolved interviews with owner of Charmone, a vegan shoe line that even non-vegans love!
Shop Nina Garcia's 10 Luxe List with Fashiontribes.com.
KRISTOPHER shows ups the good, the bad, the ugly of puffer jackets.
Ladybrille is happy about Nollywood A-list Actress Stephanie Okereke's Hollywood-Nollywood "Through the Glass" film!
A spring walk with Chilean fashion designers ValeriaSalinas Rodrigo Valenzuela in Quinta Trends. You will crave their last collection.
Second City Style has final thoughts about New York Fashion Week Spring '09
StyleBakery has the scoop on fall's new smoky eye.
Sxy Fashion Queen tells you about celebrities that love .
Heidi Montag's look look is not the best – The Beauty Stop.
The Fashionable Housewife talks about Sarah Palin's Awesome Eyeglasses And Fabulous Footwear. She's such a fashionable housewife!
The Shoe Goddess is still going wild about Marni's fall collection!
Check out more post about
Some Shopping and Info from our friends on the web
written by ShoppingandInfo.com here at our
Celebrities
,
Fashion
Page