Posts Tagged with "persian turquoise"
on April 29th, 2012
0 Comment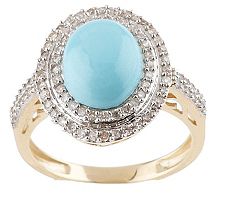 Persian turquoise is the rarest turquoise in the world. They do not mine it anymore and if you can find it – it is usually very limited. Recently I found a gorgeous Persian Turquoise Cabchon gold ring that I just had to share with all of you. It is 14KT gold, set in a oval diamond setting and is the most beautiful robin's egg blue you can ever imagine. Egyptian Pharoahs use to send their people out to mine the rare stone and it was only allowed to be worn by the royal families.
This ring would be a great addition to anyone's summer wardrobe whether you wear it with your white linen dresses or shirts or you wear it out in the evening. This pretty stone should be worn and not left in your jewelry box. I wish the earrings where still available, but alas they were sold out.

Premier Persian Turquoise and 3/10 cttw DiamondRing, 14K
 is available for $522. It is a must have for the summer.