Posts Tagged with "lose weight"
on January 26th, 2013
0 Comment
Don't tell me you have not thought about it. I sure have and I am thinking about getting one. How many hours do you spend at your desk daily? Do you feel like you are spending tons of time at your desk and getting fat? Is your blogging job killing your New Year's resolution?
After adopting a walk more mentality and spending more time walking with my dog I still have those days where I am just unable to fit in the time to get in that hour of exercise being sitting down at my desk between traveling to events, meetings, and picking up my daughter at school.
My sister suggested this to me and I think it is a great idea. Forget about whistling while you work how about just burning calories and losing weight while you work? I like that idea.
The TrekDesk Treadmill Desk
 $528.88 on sale. It is definitely a no brainer since it is probably a write off as a work expense. It is a desk after all…
on June 24th, 2012
0 Comment
How do you lose that belly fat?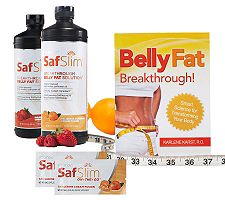 If you have been struggling with belly fat after giving birth and have been working out daily and dieting and nothing seems to work for your stomach. Think about trying this new Belly Fat Safslim clinically proven endorsed by Dr. Oz supplement. They have lots of great testimonials and a 60 day guarantee. Why not try it out? You have nothing to lose but inches off your belly.
Yep today I am talking weight loss and belly fat, tomorrow I will be writing about permanent eyeliner and eyelash extensions for those of you looking for an easy way to get through summer without putting on any make up and looking gorgeous in your bikini at the beach.
Get the Re-Body SafSlim Belly Fat Transformation Kit w/On the Go Packs
 for $87.78 now.
This is definitely less expensive than getting liposuction or liposculpture. And you can return it if it does not work.
Watch Dr. Oz talk about it on The Dr. Oz show now.
And if you are a listener of 102.7 you know that Ellen Kay of the Ryan Seacrest show is always talking about how great her abs are looking because of the flexbelt. Check it out and Get 10% Off your Order of The Flex Belt – Use Coupon Code: "FLEX10OFF" at Checkout
.
on January 7th, 2009
0 Comment

I recently read the article in Shape Magazine about Debra Messing losing 42 pounds over 3 years from her pregnancy. She spoke about how she was depressed because every other celebrity was losing their baby weight in 6 weeks while it took her 3 years to lose all the baby weight.
I found the article to be honest and empowering for normal women who have weight to lose, do not have personal chefs, and need to go to work daily.
Debra Messing also talked about the MBT shoes that she wears whenever she is not working to help tone her abs and legs. I did a little research on the MBT shoes and found out MBT shoes are physiological footwear – the first footwear that has a positive effect on the entire body. MBT stands for "Masai Barefoot Technology." MBT sneakers and casual shoes are designed using a multi-layered, curved sole which makes for a unique and rewarding walking experience. Few shoes can keep your muscles engaged in a purposeful way, but this is what MBT has done.
The many benefits of MBT shoes are not only substantiated by numerous scientific studies; they are also being enjoyed on a daily basis by more and more health- and fitness-conscious people who improve their physical fitness by merely wearing this physiological footwear. MBT shoes can activate neglected muscles and tone and shape the entire body.
Once I found all this information out, I had to buy myself a pair. I got mine a week ago and have been wearing them everywhere I go. I love them and feel that my legs are feeling like they are getting a workout.
Other fans of these shoes include Gwyneth Paltrow and Madonna.
Click the photos if you are interested in seeing for yourself:
Another great shoe brand I found were the Earth shoes. These shoes are also the same concept as the MBT with a few more styles for running, flats, and boots. Click these photos below to get a closer look at the Earth brand:
Check out more post about
Debra Messing MBT shoes for weight loss
written by ShoppingandInfo.com here at our
Celebrities
,
Shoes
Page
on December 31st, 2008
0 Comment
Wii has become an amazing game console that even my 4 year old likes to use. She bowls and plays tennis with my husband, and her friends come over to play with her too.
My New Year's Resolution is to lose weight. I signed up for eDiets.com and just bought a Wii Fit program for myself to do yoga, aerobics, and snowboarding at home. The one I bought is below on the left:
Click the photo to get your own.
There are other more comprehensive ones like the one pictured below on the right if you don't have a Wii console yet, but if you do, the Wii fit is the one on the left.
I am so excited to start my program. My goal is to lose 10 pounds in 2-3 months. Let me know what you plan on losing.
Get started by clicking one of the photos below to get Wii fit.

Check out more post about
Wii fitness games New Year Resolution
written by ShoppingandInfo.com here at our
Fashion
Page
on December 31st, 2008
1 Comment
Now that the holidays are coming to an end, I have found that I am 5 pounds heavier than I was before Thanksgiving. For someone who is not very tall, 5 pounds is a lot of weight to put on.
I only remember a frenetic amount of eating daily from Thanksgiving until after Christmas. Every day we either ate at a restaurant or a holiday party. The food was too good to be missed. Every meal was like my last meal. So, a few days ago I signed up for eDiets.com.

When I checked out the cover of US Magazine today, I noticed Britney (who was supposedly in India over the weekend) is back to her fighting weight. Many other celebrities are working on getting back to their pre holiday weight as well. Since I am a picky eater, I picked the eDiets.com plan. You can find your perfect diet with eDiets and the food is good and voted #1 by Epicurious which is saying a lot.
They have tons of diets to choose from, you can eat, drink & be thin on the Mediterranean Diet! They also have a healthy Soy Diet at eDiets.com. There is also the Eat to beat heart disease at eDiets.com. And many other diets to choose from.

eDiets.com is the only way to wine and dine your waistline while losing weight.

Get one FREE week of meals with your first eDiets' Deliciously Yours meal delivery order so you can try it out for yourself.
If you need to lose weight like I do? Lose 10 lbs in 5 weeks with eDiets.

Check out more post about
Epicurious eDiets weight loss plan
written by ShoppingandInfo.com here at our
Fashion
Page
on December 24th, 2008
0 Comment
Here is a video on how to prevent holiday weight gain. I thought it was a good video to watch before going to another holiday party.
Check out more post about
Prevent Holiday Weight Gain
written by ShoppingandInfo.com here at our
Fashion
Page