Posts Tagged with "gray motorcycle jacket"
on December 25th, 2009
0 Comment
If you are sitting around waiting for your mom, sister, or relative to cook the Christmas prime rib roast, why not do a little after Christmas shopping now. All the sales are starting today online.
Channel your inner Mary Kate Olsen with this great motorcycle jacket. I found this great fleece New York and Company Grey Knit Motorcycle Jacket
here on sale now. If you just want something that gives you that on trend look of a motorcycle jacket, but want it in a soft fleece material, then get this great jacket now on sale for under $25. And if you are stuck in the snow or freezing rain, complete the look with the boots Mary Kate Olsen is wearing and get these Hunter wellington rain boots.
Click the photo to start shopping this great sale now. Merry Christmas.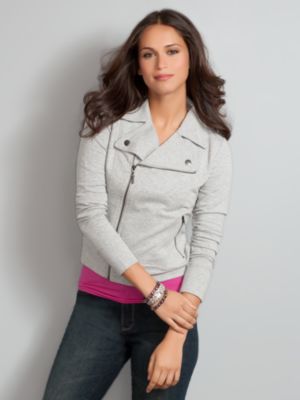 on December 15th, 2009
0 Comment
Rachel Zoe was seen wearing this great gray motorcycle biker jean jacket a few weeks back and I thought this is a MUST HAVE for everyone. This great motorcycle jean jacket is made by Current Elliot. It is such a great piece to own. Check out how Rachel Zoe decided to dress it up with her platform black suede boots, black jeans, and Chanel bag.
Click motorcycle jean jacket here to get it now.
Check out more post about
Rachel Zoe gray biker jacket
written by ShoppingandInfo.com here at our
Celebrities
,
Fashion
Page
on November 2nd, 2009
0 Comment
As most of you know, I have been obsessing over the Balenciaga grey motorcycle leather jacket since it came out last year. This year Balenciaga made another version of the gray leather jacket and Jennifer Aniston wore it on the cover of Elle Magazine.
Beyonce and Rihanna have both been seen with the Balenciaga grey leather jacket. I wanted it but never found it in my size.
If you are coveting the look of the iconic motorcycle leather jacket in a beautiful dove grey. I found one by Helmut Lang that is 50% off. I could not believe it. Click here to check out the Helmut Lang gray leather motorcycle jacket now.

Helmut Lang gray leather motorcycle jacket

Check out more post about
Balenciaga gray leather motorcycle jacket
written by ShoppingandInfo.com here at our
Fashion
Page