Posts Tagged with "gift guide"
on November 12th, 2012
0 Comment
Chain Chain Chain…now is the time to think Christmas gifts giving for the holidays and I do not know anyone who would ever say no to a gift of jewelry.
Have you ever given anyone a beautiful necklace, ring, or chain necklace and been told, "return this I do not want it!" Nope I did not think so. So if you are at a loss for what to buy your mom, sister, sister in law, mother in law, or best friend, jewelry gift ideas for holiday giving are always a good idea.
There are so many great Christmas gifts ideas for holiday giving that you don't need to worry that you cannot find something for everyone. To help you out here are some of my Christmas gifts ideas for holiday giving. I will split it up in categories based on the people in your life to make it very easy.
Wife/Girlfriend jewelry Christmas gifts ideas for holiday giving:
Diamond Earrings with pave diamonds around the solitaire. So pretty and will give her the most radiant look this holiday season. Diamond Stud and Pave Earrings for $4,000.
Pink Enamel Link Chain Bracelet for $78 is a great way for your wife or girlfriend to update their classic jewelry collection with a contemporary color on a classic chain link style.
Another great option is the classic pave crystal necklace that will add a touch of elegance to any little black dress for the holidays. Â Think Breakfast at Tiffany. Just the right look even just with a white button up shirt and boyfriend jeans for a weekend brunch date. Classic Pave Crystal Necklace for $250.
Sister jewelry Christmas Gifts Ideas for Holiday Giving:
My favorite Christmas gifts to give a sister include fun jewelry items like the CC SKYE Mini Spike Bracelet
 for $125. The reason I love this bracelet so much is because it reminds me of the Cartier love bracelet that retails for $5,000, but costs $125. It is also a little bit edgy with the spikes which give the bracelet a younger more contemporary look.


Mother and Mother in Law jewelry Christmas Gifts Ideas for Holiday Giving:
For your mother and mother in law nothing is richer looking than a 24K gold plated rose gold chain bracelet. One of my picks is the Vita Fede Anneli Bracelet for $250. The links are a combo of round and oval links to give the look a contemporary feel, but she can still pair it with her rose gold Rolex oyster watch.
Mom does deserve the best and the David Yurman 2 carats of black diamonds with black ceramic and white gold links is definitely the best when it comes to gifts this holiday season. Get the David Yurman black diamonds link chain bracelet for $4,500 from David Yurman.
Friends Jewelry Christmas Gifts Ideas for Holiday Giving:
The celestial signet ring with its milky stone and moon and star symbols is such a pretty gift for a best friend for Christmas. Celestial Signet ring for $135 from Baublebar.
Whether you choose diamond stud earrings, gift cards, necklaces, or bracelets, your loved ones will love gift ideas of jewelry.
on April 26th, 2012
0 Comment
This is an appropriate gift for mom. As a mom of a 7 year old, I want someone to give me some peace sometime. How about giving mom the Scent of Peace by Bond No. 9. If you remember growing up and feeling like your mom needed some peace and quiet, now that you are all grown up give her the gift of peace with this elegant Scent of Peace in this perfect lavender perfume bottle. I hope someone gives me a little peace for Mother's Day. Brunch at the Ivy by the Shore and then some peace. That would be a perfect Mother's Day gift. Maybe a massage at Shutters by The Beach…
Notes of sparkling, energizing grapefruit and blackcurrant are balanced by the sheer loveliness of lily of the valley, and mellow base notes of cedar wood and musk. Eau de Parfum.
Bond No. 9 The Scent of Peace for $175 from Saks Fifth Avenue.

on January 15th, 2010
0 Comment
Vintage is back in a big way and the logo bags from the 80's by Gucci are making a big comeback. If you want a great vintage Gucci but don't want to call around to different stores or physically run around Los Angeles, Sydney, Milan, Cape Town, Chicago, Boston, London, Hong Kong, Munich, Rome, or New York City to try to find a good collection of Gucci vintage bags to pick from, check out what I found for you.
Check out this amazing Vintage Gucci Stripe Doctor Bag
. I remember this bag as a teen and it still has a special place in my heart. This is the perfect classic to go with scrunchy boots and a turtleneck dress. My other favorite is the Vintage Gucci Logo tote Purse
. This bag is great for the office and can go from day into night. This one can also take you to the farmer's market on the weekend with jeans and a t shirt and shearling boots.
Click the photos to get them now for yourself for Valentine's Day coming up.
Check out more post about
Vintage Gucci logo bags BACK
written by ShoppingandInfo.com here at our
Bags
Page
on November 25th, 2009
0 Comment
Walmart has done a good job at publicizing its recent years' Black Friday deals, but we think the best deals are still online. As major online shoppers, you all know about the stories we have written on how hard it is to find what you need in a store when its crowded, understaffed, and not fully stocked. During this season, we did a few tests where we went to some major department and specialty stores and could not find our sizes in stock on jeans or the item in stock we wanted in jewelry. We still think the best deals are online and we found a lot of them for you. Here is our online sales gift guide for everyone in your life.
Check out some of the deals we found for you today:
Click Black Friday Deal of the Day
to see the best deal of the day on the internet now on everything from electronics, books, music to computers.
Click Get $20 off $500! Now at Overstock.com! (Valid 10/30 – 11/26)
to get a great deal on televisions, linens, jewelry, diamonds, and everything else in between now for your holiday shopping.
Click Shop Gap.com! to get 50% off sweaters for men and women today online only.
Shop New Markdowns 30-70% Off at shopbop.com
and get everything you need for the holiday parties, boots for work and school, and gifts now for your fashionista.
For your wine loving friends Our Gift to You: FREE Shipping on Your Order of $95+
For the New Moon Twilight Saga Fan in your life: Click here to buy New Moon clothing.
For the gamer in your life: Click here to check out the deals on Wii and Playstation Games.
For that fashionista in your life who only likes designers from Italy and France. Click here for a sale that will knock her socks off.

Check out more post about
Black Friday Walmart or Amazon?
written by ShoppingandInfo.com here at our
Fashion
Page
on November 18th, 2009
0 Comment
StyleMaven stylespotted Nicole Richie in a pair of rugged yet refined Modern Vintage Mack Boots.
TheFind Blog is on a quest for the perfect pair of black jeans + leggings = "jeggings"!
Check out more post about
Shopping and Goodies Thanksgiving week
written by ShoppingandInfo.com here at our
Fashion
Page
on November 6th, 2009
0 Comment
The holidays are approaching and if you are a Juicy Couture fan like me you probably have a holiday wish list of ballet flats, sweaters, jackets, and various items that you covet for the holiday season. For those of you who need a little help, I am here to offer you the guidance of a tightly edited list of must have items from Juicy Couture that you should put on your list for this holiday season.
This season Juicy Couture made a beautiful Herve Leger like bandage black dress in a black strapless that is a must have if you need a dress for a holiday party. To go along with it, get their faux fur collar sweater to cover up from the cold and wear to work the next day. Jewelry must haves are these beautiful drop earrings that look like 19th century estate pieces. A watch is practical and can look elegant at the same time in a stainless steel timepiece. Ballet flats are still the way to live in comfort and elegance. I have chosen two of my favorite ballet flats that have sparkle to help you carry on your holiday cheer through the cold and snow through to the New Year.
Click the links below to shop all these great pieces now.



Juicy Couture black Double Knit Strapless Dress click here.

Juicy Couture Faux Fur Collared Belted Cardigan click here to check it out.


Juicy Couture Silver Dust Metallic Suede ballet flats click here to get a closer look.

Juicy Couture Bronze Metallic Bubble Nappa ballet flats click here to check them out.

Juicy Couture silver link watch click here to check it out.

Juicy Couture Pave Bow Drop earrings click here to check them out.
Check out more post about
Juicy Couture holiday gift guide
written by ShoppingandInfo.com here at our
Bags
Page
on November 5th, 2009
0 Comment
You want a great gift for your wife or mom? I got this 14k Yellow Gold Round Yellow Picture Locket
as a gift from my daughter and I love it! You can get a photo etched into a 14k Yellow Gold Round Yellow Picture Locket
and engraved with a message to keep forever. It looks so vintage! Pair this 14k Yellow Gold Round Yellow Picture Locket
with a Helen Ficalora
chain and Mom charm from shopbop.com
and it will be so beautiful. See what my daughter did for me in the photo. She paired my locket which has a photo etched inside with a Helen Ficalora
charm and 30 inch Helen Ficalora
14Kt gold necklace. She then engraved a message on the inside that I can read every time I open it to remind me of her.
Click the photo of the locket below to save 5% and start building your 14k Yellow Gold Round Yellow Picture Locket
with photo and engraving now in time for Christmas and Hanukkah. Click the photo of the locket below to start building your locket now.
Use code CJPRM05 to get 5% off your total order too at checkout.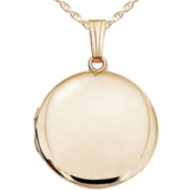 Get your Helen Ficalora
charms and necklace at shopbop.com
below with Free Shipping and No Tax. Click the banner below to shop Helen Ficalora charms and necklaces now.
Check out more post about
Gold locket for Christmas Gifts
written by ShoppingandInfo.com here at our
Jewelry
Page
on February 9th, 2009
0 Comment
This Valentine's Day give a little peace and love to her in the form of the Sydney Evan Mini Peace Necklace with diamonds. There is no better way to say Happy Valentine's Day than with diamonds and on a peace sign this Valentine's Day. It is so delicate and unassuming she can wear it all year round. Click the photo to get a closer look.
If the diamonds are a little out of your budget get a designer look from Helen Ficalora in sterling silver with this Helen Ficalora Peace Sign Charm.
David Yurman just did a peace sign diamond necklace. It is definitely back to Hippie Chic for spring. Wear this with your ruffle bottom halter dresses. Click the photos to get the complete look now.

Check out more post about
Diamond Peace Sign necklace Valentine's Day idea #1
written by ShoppingandInfo.com here at our
Jewelry
Page