Posts Tagged with "dress ruffle"
on April 24th, 2009
0 Comment
Beyonce sang Halo on the Today Show today and interviewed with Matt Lauer. Of course that screechy recording we all heard was not Beyonce. The woman can sing. She sang in front of President Obama at the Inauguration Ball. She has sang in front of live audiences. She can sing. She can sing.
Beyonce was seen here entering Letterman yesterday in a beautiful ruffle trench coat. I was hoping this was from her mother's clothing collection on HSN, but I think Beyonce's ruffle coat is probably Valentino for $4,500.
I found some ruffle options for you to satiate your love of ruffles for this season. Click the photos below to buy yourself some ruffles.
Check out more post about
Beyonce ruffle trench coat Letterman
written by ShoppingandInfo.com here at our
Celebrities
,
Fashion
Page
on April 9th, 2009
0 Comment
30% off all new arrivals at Gap, Banana Republic and Old Navy ends today at midnight Eastern time.
Click the banners below to shop NOW and get 30% off ALL NEW ARRIVALS for SPRING. ONLINE ONLY SALE.
Get this amazing ruffled cardigan sweater and dress now. Click the sweater and dress to buy them now for 30% off now online only.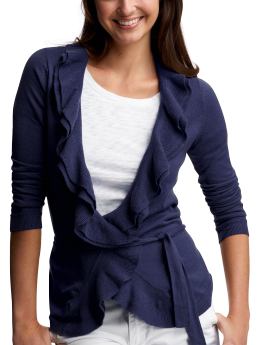 on February 9th, 2009
0 Comment
I have a 25% off Qi Cashmere coupon code for you from now until the end of February. Just put in FEB50 at check out to get 25% off all your Qi Cashmere and anything else on the site until the end of February. Get everything you want now for Valentine's Day. I love Qi's spring line for all their beautiful ruffle dresses and sweaters. CLICK THE PHOTOS below to buy QI now in time for Valentine's Day.
Qi is a contemporary knitwear company that is sexy, chic and always modern. Based on the concept of creating innovative fashion knitwear products, Qi was launched in 2002 and has quickly developed a loyal customer following.

Celebrities that love Qi Cashmere include:
Jessica Alba, Rihanna, Rachel Bilson, Audrina Partridge, Kelly Ripa, Jessica Biel, Emmy Rossum, Mischa Barton, and Hayden Panettiere.
Rihanna is seen here wearing a Qi Cashmere duster.
Click the photos below to get the great Qi Cashmere ruffle sweaters, dresses, and tops for 25% off now.

I am going to buy the pink ruffle cardigan wrap and the v neck ruffle dress in grey below. I think these 2 are too good to pass up considering they are 100% CASHMERE. Such a great deal. Happy Valentine's Day.
Check out more post about
Qi Cashmere 25% off coupon code Rihanna loves the line!
written by ShoppingandInfo.com here at our
Giveaways
Page